Today I am thrilled to welcome
SITS
readers to my blog!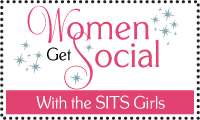 Hello and welcome!! So nice to meet you!
For those of you who don't know the
SITS network
is a network of bloggers 15,000 strong who believe that the secret to success is support. Such a great philosophy. I've met some absolutely wonderful people through their site in the recent months. I just signed up for their
Spring Fling Event
and am looking forward to learning even more about this whole blogging thing.
Anyways! To let the new readers know a little bit more about me and who this blog is about...
Who I am...
I am Jeanne aka Sourire11.
My profile pic pretty much everywhere these days.
I'm 30 something and happily married to my college sweetheart:
Our wedding back in 2004.
I"m a mom of 2:
The Boy who just turned 1, and The Girl who just turned 3.
I'm a Cleveland girl who loves her hometown despite being married to a Steelers Fan.
indie dyer
who occasionally dabbles in
designing patterns
. I also love dogs, wine, twitter, reading, and photography.
What I Do...
This:
I was an architect with the 6 years of design school and masters degree and ambition to remake this city I love and all of it. And then I had a baby and..... I never went back.
Pictured: A bit of a distraction from that whole Architecture thing.
But! Also! I couldn't walk away from design completely. So I started a company,
Destination Yarn
, which merges all of my passions - design, travel, knitting, and color.
Every colorway is based on a place. This makes me unreasonably happy.
I occasionally post
shop updates
and pretty yarn to this blog. Because seriously even if you're not a knitter who doesn't love a
rainbow of yarn
?
Why I Blog...
I started blogging because I was obsessively reading knitting blogs as a way to research patterns. It didn't seem fair that I wasn't contributing to the online knowledge bank. Then I got into it and it became a way to share both my projects and our adventures. I still see it as that even if our adventures are less this:
Us at Machu Picchu in 2007. We hiked there via the 4 day Inca Trail.
and are more this:
The kids at Geneva State Park last summer. We drove there at naptime.
And my knitting is less this:
Traditional Stranded sweater that it took me 2 weeks to knit (part of the knitting Olympics but still)
and more this:
Hat that it took me 2 months to knit. I did design the pattern, though so that's something I guess!
What I blog about...
I often feel that this blog is a misfit. I'd love to be able to be a genre blog and do it well. To be a Cleveland Blog. Or a Knit Blog. Or a Parenting Blog. But... I just end up blogging about whatever shiny object is currently capturing my attention so this blog is kindof all over the map. And alot of my posts cover more than one category. For example this one:
Matching LEEOW Skirt and Shoes.
She loved those shoes So, SO much.
But here are some of my best recent posts in my most prevalent categories:
Family/Life/Kids:
Mall Santa
My 2.5 year old's thoughts on Project Runway
The last 48 Hours
20 Questions for Three
Knitting / Yarn:
Mod Cables Slouchy Hat
Ireland Hat for St. Pats
Girl Scouts are Good Citizens
Rainbow of Yarn
February is for Finishing
Cleveland:
Lake Erie Love
Great Lakes, Ice, and Yarn
Cleveland Aquarium Visit
Happy Third Birthday and St. Pats!
Sewing/Baking/Photography/Other Creative Nonsense:
My picture is on CNN!
Two Trifles for Tasty Tuesday
Maleficent for Halloween
Awesome Pants
Yeah like I said... I'm pretty all over the map. But I love documenting our random here and love reading other people's random as well.
Thanks so much for visiting and I hope you come back again soon!!!